27 April 2023, Parsippany, NJ. Teva Pharmaceuticals USA, has initiated a voluntary nationwide recall of specific lots of various strengths of FENTANYL Buccal Tablets CII to the Consumer Level. Teva USA manufactured and labeled these product lots exclusively for Mayne Pharma Inc. under Mayne's label. This recall has been initiated because safety updates were omitted in the Product Insert/Medication Guide (MG) that are provided with these recalled lots.
The main safety concern is a potential for incomplete information needed by health care providers and patients regarding safe use of the product. Not following, or not being aware of, the omitted safety updates in the Product Insert/Medication Guide (MG) could lead to life-threatening adverse events; although, based on a Health Hazard Assessment conducted by Teva, the likelihood of the harm occurrence is considered remote. To date, Teva has not received any complaints related to the product labeling.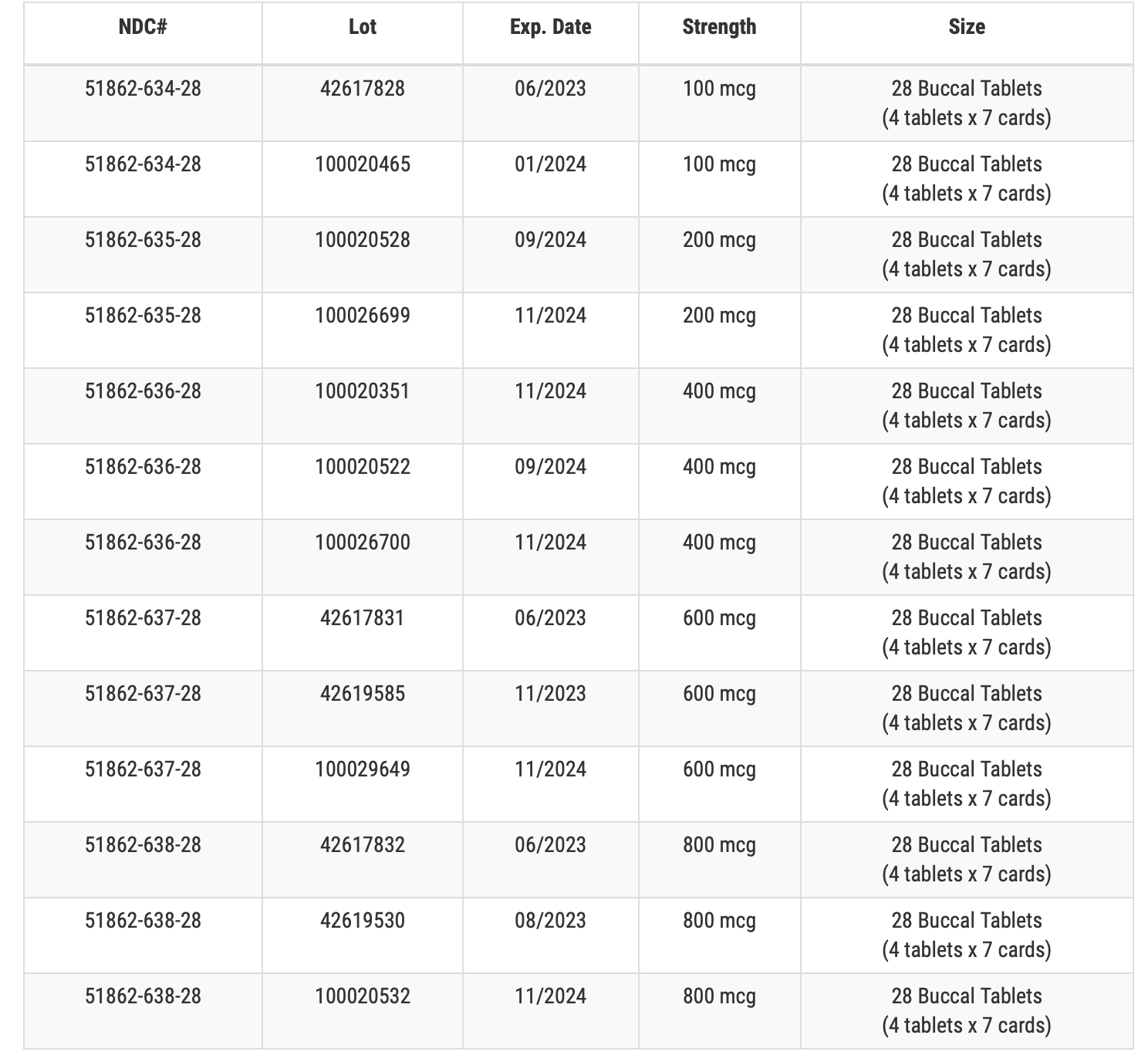 The approved product's indications are: Fentanyl buccal tablet is an opioid agonist indicated for the management of breakthrough pain in cancer patients 18 years of age and older who are already receiving and who are tolerant to around-the-clock opioid therapy for their underlying persistent cancer pain. Patients considered opioid tolerant are those who are taking, for one week or longer, around-the-clock medicine consisting of at least 60 mg of oral morphine per day, at least 25 mcg per hour of transdermal fentanyl, at least 30 mg of oral oxycodone per day, at least 8 mg of oral hydromorphone per day, at least 25 mg oral oxymorphone per day, at least 60 mg of oral hydrocodone per day, or an equianalgesic dose of another opioid. Patients must remain on around-the-clock opioids while taking fentanyl buccal tablet.
Teva notified its customer, Mayne Pharma Inc. on April 27, 2023, alerting them that the lots were recalled and requesting that they return impacted product. Instructions for returning recalled product and receiving a credit are given in the Recall letterExternal Link Disclaimer and Consumer Recall letterExternal Link Disclaimer released by Teva.
Consumers with questions or concerns should first consult with their health care provider(s). To report an Adverse Event or Quality Complaint, or if you have Medical Related Questions, please use the following contact information:
Medical-related Questions or to report an Adverse Event:
Contact Medical Information at: 888-483-8279 or

[email protected]


Live calls received: M – F, 9:00 AM – 5:00 PM Eastern Time; Voicemail: 24 hrs./day, 7 days/week
Product Quality Complaint-related Questions:
Contact Quality Assurance Services: 888-838-2872, option 4
Live calls received: M – F, 9:00 AM – 5:00 PM Eastern Time; Voicemail: 24 hrs./day, 7 days/week
Adverse events or other problems experienced with the use of this product may also be reported to the FDA's MedWatch Adverse Event Reporting program either online, by regular mail or by fax. Complete and submit the report Online
Regular Mail or Fax: Download form or call 1- 800-332-1088 to request a reporting form, then complete and return to the address on the pre-addressed form,or submit by fax to 1-800-FDA-0178.
This recall was made with the knowledge of the Food and Drug Administration. Teva will continue to partner with, and regularly update, all relevant stakeholders, including regulatory authorities, to resolve this situation.
Description of FENTANYL Buccal Tablets CII being recalled:
To help identify the drug product that is the subject of the recall, description of the product's carton labeling (RE Table 1) is below.
---
Company Contact Information
Consumers:Quality Assurance Services 888-838-2872, option 4

Source: https://www.fda.gov/safety/recalls-market-withdrawals-safety-alerts/teva-initiates-voluntary-nationwide-recall-specific-lots-fentanyl-buccal-tablets-cii-due-labeling